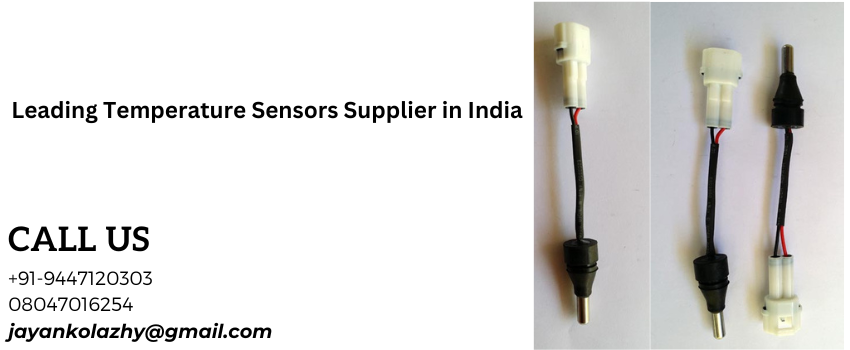 The automobile battery temperature sensors are a significant part of vehicle energy management. The sensor notifies the car of the exact battery status, calculates the temperature and controls the charging voltage and charging current accordingly. The final goal of these sensors is to safeguard that the engine is started at all times and, in doing so, avoid vehicle failure. This sensor also supports smart alternator control, which reduces CO2 emissions, saves fuel and defends the environment. These sensors should be purchased from the reliable Automobile Battery Temperature Sensors Supplier for better performance.
Why do we need temperature sensors?
Temperature sensors are also required on a battery because heat is produced whenever a battery is charged, and upsurges the ambient heat and internal heat of the battery. Thus, a temperature sensor is desirable on the battery charger because the battery temperature is high; the charger decreases the voltage supply to ensure peak charging and stops overheating of the battery. The charger uses a higher voltage for the battery at lower temperatures to balance the amplified resistance caused by the low temperature.
Types of Automobile Battery Temperature Sensors
Thermocouples
Thermocouples are the regularly used type of temperature sensor. They are used in industrial, automotive, and consumer uses. Thermocouples are self-powered, need no excitation, can operate over a wide temperature range, and have quick response times.

RTD (Resistance Temperature Detector)
As temperature changes, the resistance of any metal varies as well. This change in resistance is what RTD temperature sensors are founded on. An RTD is a device with well-organized resistance vs. temperature features. Platinum is the utmost common and precise material used to make RTDs.

Semiconductor based ICS
Semiconductor-based temperature sensor ICs come in two different categories: local temperature sensors and remote digital temperature sensors. Local temperature sensors are ICs that calculate their die temperature by using the physical properties of a transistor. Remote digital temperature sensors measure the temperature of an outside transistor.
Things to consider before buying a sensor from the reliable automobile battery temperature sensors supplier

Temperature Range
Temperature range should be the first consideration when choosing a temperature sensor for an application. Different temperature sensors will be more suitable for different ranges.

Accuracy
The obligatory accuracy is another significant consideration. Thermocouples, although they are little cost, are frequently less accurate over time than a thermistor temperature probe.

Stability
Is the functioning long-term? This will impact the kind of temperature sensor which is used. Temperature sensors can become less operative over time depending on their construction, the materials they are constructed from and the packaging.

Size or Packaging Style
The packaging style will differ liable on the application in hand. A negotiated stud may be used for some general purpose uses. Closed tubes are well appropriate to applications connecting liquid measurement.

Noise Immunity
NTC thermistors possess great resistance throughout the initial switch making them resistant to electrical noise and lead resistance. Thermocouples are also protected to lead resistance although can be impacted by electrical noise because of the small output signal.